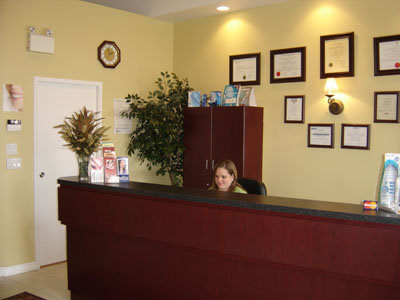 On your first visit with us, you will discover warm and welcoming atmosphere, hospitable staff and a genuine concern for your Oral Health Care needs You will be asked to complete a Medical and Dental questionnaire which will help us in providing comprehensive oral care for you and your family.  Your initial visit will also include a complete and thorough examination aided by necessary radiography and cleaning. This will be followed by detailed explanation of your dental treatment and address your questions and concerns pertaining to your dental needs.
APPOINTMENTS
We understand that your time is just as valuable as ours. We reserve appointments with the amount of time needed for your dental treatments.  We do not double book appointments and make you wait for a long time to be seen.  In returns we ask that you extend us the same courtesy and arrive for your appointment at the reserved time. This allows us to provide your dental treatment to the very best of our ability.  In the event that it is necessary for you to change your appointment, we require at least 24-hour advance notice. This courtesy on your part allows us to attend to other patients who may need immediate or emergency care.
Our office hours are designed to meet your needs at your convenience.
FINANCIAL CONCERNS
Fees in our office is based on Current Ontario Dental Association fee guide.  In addition to making your dental experience comfortable, we also keep in mind your financial concerns. Prior to the commencement of treatment, the fees for service and financial options will be discussed with you so that appropriate financial arrangements can be made. For your convenience, our facility offers direct electronic billing to your insurance carrier for which we request you to provide us with your insurance information before your appointment.